A Queer Monster Hunting Paranormal Romance
Southern Gothic is an ongoing queer paranormal romance novel series by author Magen Cubed. Dorian Villeneueve is an unlucky vampire from the wrong part of town. Cash Leroy is a human who hunts monsters for a living. They shouldn't have fallen in love, but they did. Now this supernatural odd couple have to make it work in a world full of werewolves, demons, vampire crime, mermaids, and unhappy human in-laws.
The series began in February 2018, with the publication of her short story Leather and Lace in the Twisted Romance comics anthology from Image Comics. ComicBooked.com called Leather and Lace "a sexy twist to urban fantasy." Pomegranate Magazine applauded it as "a delightful queer romp that clearly took pleasure in playing with the tropes of the ever-popular supernatural romance."
Since then, Cubed has expanded her world of monster hunters and hijinks, completing two novel (of a planned six) and over 20 short stories following Dorian and Cash's relationship. One part paranormal adventure, one part sexy romp, one part quirky romcom, Southern Gothic is all heart.
Dorian Villeneuve is a 26-year-old vampire prone to bad ideas and even worse luck. He came up on the rough streets of Devil's Row, the vampire ghetto in Devereux City, scraping by as a bartender, sex worker, and semi-professional sugar baby. A vampire by birth, Dorian is a goth but for the grace of God. He also has an emotional support chihuahua named Dominique to cope with his lifelong anxiety.

Dorian met Cash during a vampire bar-fight, when the hunter took on a vampire twice his size -- and lost. Saving Cash's life (and losing his job at the bar in the process), the two became fast friends, and Dorian left Devil's Row to help Cash hunt monsters.

Dorian is also in love with Cash, which makes things a little...complicated.
Cassius "Cash" Leroy is a 27-year-old monster hunter prone to danger and broken bones. He hails from a small East Texas town, the son of a Mexican-American vampire hunter and a Cajun Baptist preacher. Despite his good ol' southern boy exterior, Cash is a gentle soul, devoted Stevie Nicks fan, and karaoke enthusiast. In another life, Cash should have been a singer but killing paid the bills.

Meeting Dorian during a vampire bar-fight, Cash befriended the vampire who saved his life. Cash also got Dorian fired in the process, and so the hunter took Dorian under his wing and taught him to hunt monsters.

Then Cash fell in love with Dorian -- which definitely wasn't part of the plan.
There are a total of six planned books in the series. Two books are finished. Over 20 short stories have been written. Three are currently released to the public with more coming in 2019 and 2020. Until I have release dates for the first novel and subsequent short stories, you can read more about the world of Southern Gothic below.
The story of how an unlucky vampire from Devil's Row hit rock bottom and met the man of his dreams along the way, who just happens to be a monster hunter. (It's complicated.)

This prequel to Leather and Lace follows Dorian's misadventures before he finds himself in stumbling into the world of monster hunting. A little bit of romance, a little bit of danger, and a whole lot of bad luck.
Following Love Bites, Dorian ends up on the run from the vampire mob, while trying to navigate his new friendship with Cash. Is it too good to be true? (With Dorian's luck, probably.)

The story of how Dorian joins the human world, with all of the danger that brings him, and ends up in an unlikely friendship with the monster hunter Cash. Could there be more to this than just sexual attraction? Is it worth the risk?

AVAILABLE ON AMAZON
AVAILABLE ON ITCH.IO
Leather and Lace follows Dorian and Cash as a routine monster hunt takes a weird turn. Can they stay friends, or is this their last hunt? A story of romance, wendigos, karaoke, and kissing in the woods.

As first seen in Twisted Romance, this is the short story that started the world of Southern Gothic.It is currently being adapted into a full-length novel of the same title. Two sequels, Born Under a Bad Sign and Bad Company, are currently underway.

AVAILABLE ON AMAZON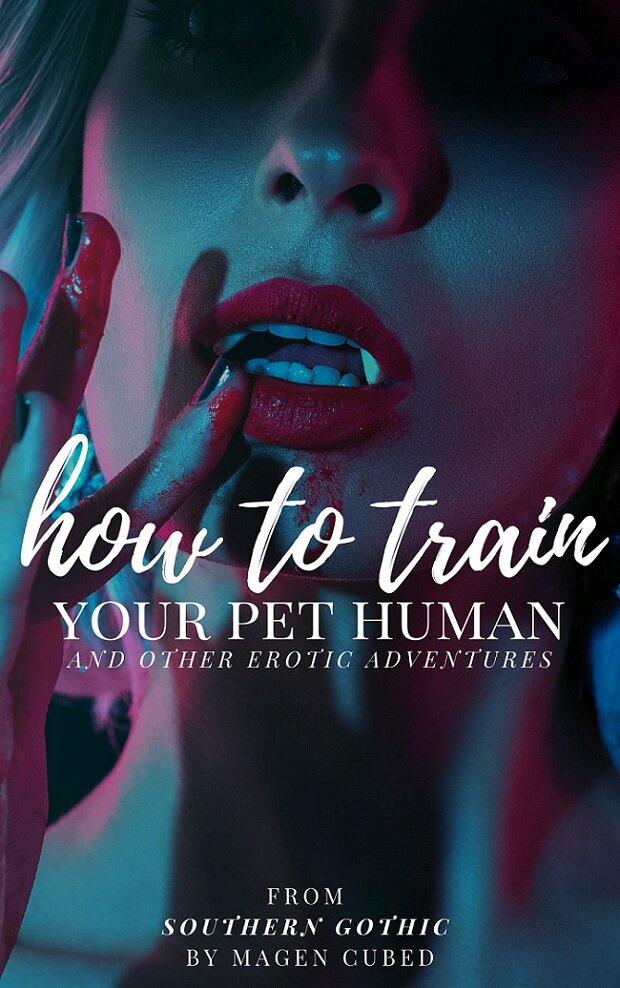 How to Train Your Pet Human
From the pages of TWISTED ROMANCE and the upcoming queer monster-hunting romance SOUTHERN GOTHIC SERIES comes HOW TO TRAIN YOUR PET HUMAN.
This fun, sexy romp follows vampire Dorian Villeneuve and his human boyfriend Cash Leroy across six erotic adventures. From their first blush with BDSM to restroom quickies, kinky evenings in to tender explorations of their deepening relationship, this compilation has something for current and new readers alike.
To keep up with Southern Gothic news, follow Magen Cubed on Twitter (@magencubed). You can also hear more about the series by subscribing to her newsletter, Oddities. Support her on Patreon for book excerpts, original short stories, and other content!